While you may not associate Boston with world-class bicycle paths, there are numerous options in and around town that rival any other city in the United States. But, before you hop on a bike and pick a trail, don't overlook a walking tour on the Freedom Trail in the North End or a stroll along the wharf. Of course, any Boston-based excursion leads to a pizzeria, ice cream shop or seafood restaurant, so save some time to grab some local food. Even though there are some final touches that need to be made to complete the loop of the Historic Boston Bike Trail, you'll want to read on to learn more about that must-ride option. And if you're a Redsox fan, renting a blue bike near Fenway Park (the public bike share option for Boston and nearby cities) is a must. But first…
Enjoy, But Be Careful
Regardless of when and where cycling enters your itinerary, it's important to note that there are varying levels of bike friendliness in Boston. This is especially the case when comparing dedicated bicycle trails to a daily bicycle commute in Boston. The latter requires cycling skill, attentiveness and a willingness to continually service your bicycle as road salt and potholes take their toll on your bicycle.
1. Exploring Downtown Boston
Although the city of Boston was consistently ranked as one of the worst areas in the country for biking, the residents of Boston have been investing more of their tax dollars in cycling infrastructure and the improvements over the last decade or so have been impressive. And, if you're in Boston, don't forget to check out bicycling options in nearby Cambridge, which was recently rated one of the best cycling cities in the country.
2. Historic Boston Bike Trail
Even though you can ride on many streets in Boston, riding the Historic Boston Bike Trail is something truly New England. How do you ensure that everyone can move safely through the narrow streets and alleys of a 300-year old city? Kudos to the city of Boston. Recently, the plan to create a family-friendly, low-stress bicycle trail that makes a full circuit of downtown Boston is mostly completed.  During Phase One of the project, the city of Boston created a grade-separated, protected cycle track along Staniford Street, Causeway Street, Commercial Street, and Atlantic Avenue. They then completed a full reconstruction of Causeway Street to aid pedestrian safety and accessibility.  There is one section of the cycle track in front of the TD Garden that is functioning but is an interim plan, due to the construction needs of the Hub on Causeway (HOC) expansion.  Visit the City of Boston's website for updates. Below is a video with some visuals of the trail.
3. The Emerald Necklace
The Emerald Necklace is a oasis or collection of gardens, reserves, amazing sights and winding pathways. While there are lots of different sights along these pathways, Frederick Law Olmsted's famous system of parks stand out as one of the more aesthetic sights as you make your way along Commonwealth Avenue to the popular shores of Jamaica Pond to the winding paths of the Arnold Arboretum. While you'll pick when and where to stop along the way, the parks that make up the "necklace" of parks are: Back Bay Fens, the Riverway, Olmstead Park, Jamaica Pond, Arnold Arboretum and Franklin Park. There's no need to bring your own bike if you're coming from outside of the area as bike share or rentals are easy to come by. The Olmsted parks are gorgeous any time of the year, but you'll find yourself in biking nirvana if you're able to explore this option when foliage peaks in color between mid-October and early November.
Along the trail, you'll find the Boston Common, the Boston Public Garden, the Fens, Olmsted Park, Jamaica Pond (fantastic views here), and Arnold Arboretum (managed by Harvard). 
4. Deer Island
After you arrive on Deer Island, you can ride on the 2.6-mile waterfront path or the two miles of paths traversing the island. As you tour the island, you'll be enthralled by 60-acres of parkland that cover the island. If you don't want to stop at a restaurant, bring a picnic. On the island you'll also find historic buildings, scenic viewpoints, as well as a visitor center and restrooms. As you make your way around the trail, you'll have unobstructed views of the harbor from all sides. There is a slight incline at times.
5. Arnold Arboretum
If you've never been to the Arnold Arboretum, you should mark this ride as number one on your list. Arboretum's living collection of trees, shrubs, and woody vines is recognized as one of the most comprehensive and best documented of its kind in the world. The living collection is supported by comprehensive curatorial documentation, herbaria containing more than 1.3 million specimens, extensive library and archival holdings. This arboretum, located in Jamaica Plain and Roslindale, is almost 150 years old and is the oldest public arboretum in North America. A route around the arboretum will take you in a loop that's approximately 4.5 miles, but you can also take your bike along the paved main paths for a tree-lined, meandering route.

There is some parking on the streets surrounding the Arboretum and a few small lots and the closest T stop is the Forest Hills stop on the Orange line.
6. Minuteman Bikeway
No "best of Boston" bicycle trail list would be complete without the Minuteman Bikeway. This popular trail is 11 miles from start to finish and runs along an inactive railroad. You'll find all manner of wheeled, non-motor vehicles on this trail–along with a sizable number of pedestrians during the summer. This trail is also a great pick if you're into history, as it roughly approximates Paul Revere's famous midnight ride through Lexington and Arlington.
In terms of a good starting point, you can start in Cambridge and take the trail to its current end point in Lexington MA. The beginning section is busy and has a lot of street crossings (be cautious with children), but once you are beyond the first six miles the trail becomes more shaded and less busy. If you have a few minutes, check out the video below; you'll be rewarded with some scenic B-roll of the trail.
We recommend stopping for lunch at the Kickstand Cafe if you don't bring a picnic. The path is nicely paved and mostly shaded and it's a really pleasant and flat ride that felt safe from start to finish. Bring water with you as there aren't any water stops along the way but in Lexington and Arlington, there are restaurants and shops to stop in that are just off the path.
7. Lower Neponset Trail
Open year-round, the Lower Neponset Trail takes you down a five-mile stretch of the Neponset River from Dorchester to Milton. There are numerous nearby parks and playgrounds if you're looking for a break from pedaling.
We suggest you start your ride at the Tenean Beach northern trailhead or at the MBTA Mattapan Station to the south. You can park your car for a small fee at the station. From the station, the northern endpoint of the 2-mile Pine Tree Brook/Popes Pond Path is just 1 mile away.
The trail's canopy is very dense in this southern section. The asphalt path connects to adjacent recreation fields and businesses now located in repurposed brick manufacturing buildings along this once busy industrial corridor. At the halfway point, the trail goes under the MBTA tracks and empties out to the river's marshes. At this point, you will now be on a rail-with-trail. From here to the end of the route, you might share the trail with some fishermen as you pass through the Neponset River Reservation, which extends from Milton to the Boston Harbor.
The path hugs the Neponset River before passing Joseph Finnegan Park on the right. The city is creating several other adjacent parks like this one, with short trail loops of their own. As Taylor Street comes to an end, turn left onto Water Street for three short blocks on residential streets to the endpoint at Tenean Beach, where you can enjoy views of downtown Boston.
8. Southwest Corridor Park
The Southwest Corridor Park is a popular commuter biking route from Back Bay to Forest Hills. It links the South End, Back Bay, Roxbury, and Jamaica Plain, and is a great route to leisurely ride along during a summer day. You'll have to keep an eye out for other bikers, since the route is pretty packed during the summer months.
As you ride, you can stop and enjoy various activity centers. There are two spray pools, seven basketball courts, five tennis courts, two street hockey rinks, two amphitheaters, and jogging and walking paths along the route.
Stony Brook Reservation
The Stony Brook Reservation is 475 acres of ponds, parks, trails, and scenic landscapes. The Turtle Pond, our favorite part of the reservation, has sunfish and perch in its waters (so don't forget your fishing rod!). The reservation also contains tennis courts, picnic areas, an iceskating rink during the winter months, and a pool, as well as 12 miles of hiking trails and bike paths. Located in West Roxbury, it's a bit of a haul to get out there, but once you arrive you can spend an entire day exploring the beautiful grounds.

9. Jamaica Bike Path
Take in the beauty of Olmstead Park as you make your way through this scenic nine-mile ride that stretches between Leverett Pond and Jamaica Pond. There are drinking fountains and water refill stations along the trail as well as restrooms and artwork to gaze at as you coast.
10. Charles River Bike Path
Yeah, yeah. We know you've been to the Charles before, and this might seem like an obvious choice, but this route takes you from the Museum of Science to Watertown Square and we doubt you've ever seen the city of Boston quite like this before. You'll be able to tell where all of your favorite places are in relation to one another, plus there's nothing better than spending time on the Charles on a beautiful summer day. Be careful of pedestrians and other bikers as you ride, but take it slow and enjoy your surroundings. If you're hosting an out-of-towner, this is a great way for them to see the city while also getting some fresh air and exercise.
11. Charlestown Waterfront Bike Path
If you're not in the mood for a long ride, the Charlestown Waterfront Bike path is a perfect option. This route is barely a mile long, but it takes you along the ocean and gives you a taste of Boston history while you ride. You'll pass the Charlestown Navy Yard and the USS Constitution, and can also take a detour to the Bunker Hill Monument. If you're bringing the kids along, stop for a picnic at the City Square Park or check out the Barry Playground.
12. Bike-Share Options
Maybe you want to dip your toe in two-wheel waters before diving in headfirst with a bike of your own. Fear not, you have options.Among the most accessible? Bike-share.
13. Great Places To Ride — And Trouble Spots
The city of Boston touts its efforts to boost biking and slash crash numbers — but also admits "many people don't feel comfortable riding a bike on our streets." Bike infrastructure in and around Boston is improving, but some bike advocates say progress is happening at a "glacial" pace."There are some really great off-road paths … and there are some — and we know that there are going to soon be more — protected bike lanes on the streets," says Eliza Parad, director of organizing for the Boston Cyclists Union. "But that is still a small number. There are a lot of missing connections."A scorecard compiled by PeopleForBikes, a national bike advocacy organization, gives Boston a 2.7 out of 5, with particularly low ratings on two metrics: "network" (how well the bike network connects people to destinations) and "reach" (how well the network serves everyone equally).And Noah De Amor, founder of the Bowdoin Bike School in Dorchester, says biking in Boston is slanted toward the privileged."In order to feel safe [biking] in Boston … right now, you have to be very fit and very fearless," De Amor says. "I think that the way that the streets are set up just reeks of privileged culture. It just kind of sends a message that only certain people should be cycling on the streets."The number of people biking in the area is growing, but it's still relatively small: Just 2.1% of people report bicycling as their primary means of transportation to work in Boston, according to census data.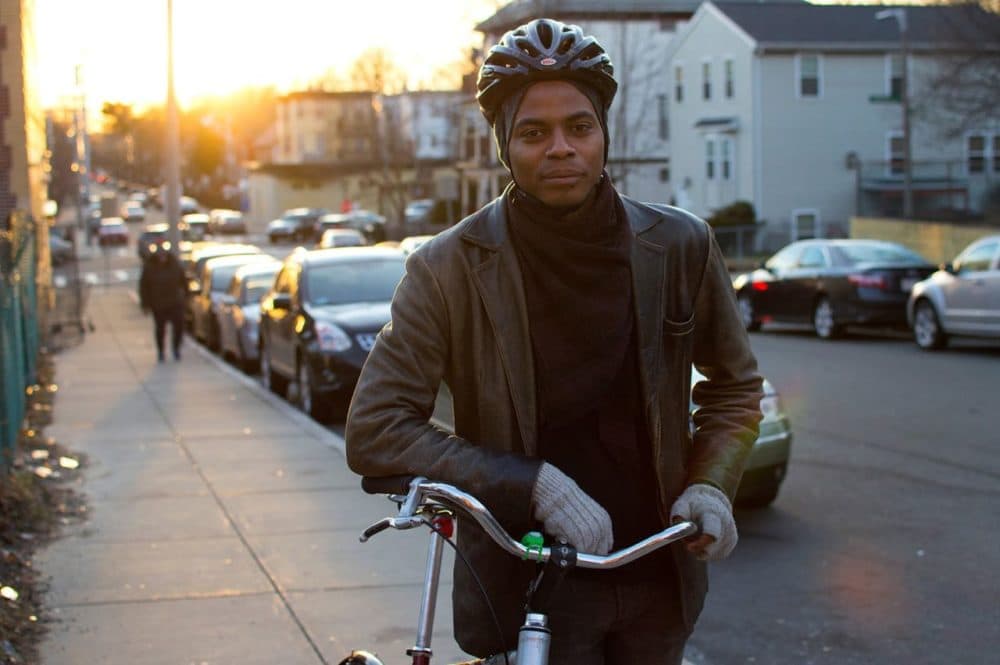 14. Again…Be Cautious
While these paths and trails are great for biking, riding on city streets requires a higher level of awareness.Boston's Vision Zero initiative aims to end serious and fatal bicycle crashes by 2030. This Vision Zero map offers a look at where and when bike crashes have occurred, and here are a few specific areas of caution to keep in the back of your mind before hitting the streets: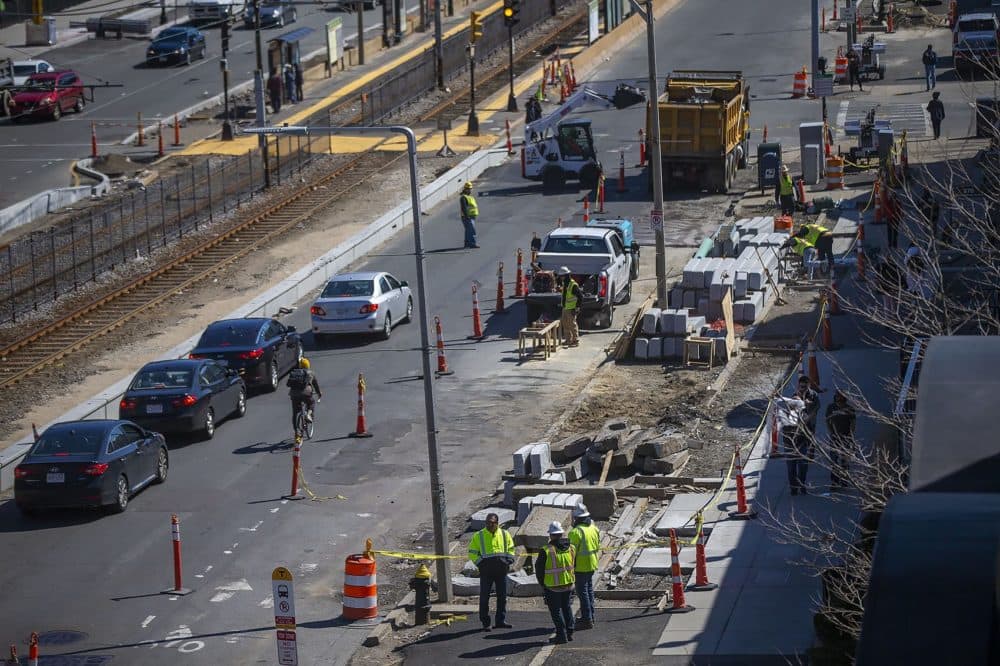 Some advice if it feels like things are getting dicey? Behave more like a pedestrian."If you don't feel safe on the road, ride on the sidewalk," Parad says, adding it's best to find an alternate route and avoid traffic-laden areas altogether when possible.Organizations like the Boston Cyclists Union and Bowdoin Bike School also host group rides for people who would rather have some experienced company while acclimatizing to city biking.There can also be comfort in a routine, says Mark Vautour, store manager for Landry's Bicycles on Commonwealth Avenue by Boston University. If you plan to ride to and from work, for example, do a little preliminary research and get to know the ins and outs of that particular route.There Are Laws And Regulations To FollowFor many people, riding a bike means flexibility and independence. But there are rules of the road, and you'll want to at least know your rights before mounting up.Motorists, for instance, must check for passing cyclists before opening their door, maintain a safe distance when passing on the left, yield when making left turns, and are prohibited from making abrupt right turns, according to state law.Here are the laws you must follow as a biker in Boston proper:
You have to follow all traffic laws and regulations — that means stopping at stop signs and traffic lights.
You have to yield to pedestrians, and "ring a bell or give another polite, audible signal" while passing a person walking — no whistling or sirens.
You can ride your bike on the sidewalk, but biking in the street is encouraged.
You have to keep at least one hand on your handlebars.
You have to use a white light on the front of your bike and either a red light or red reflector on the rear: The front light has to be visible at least 500 feet away, while the rear light must be visible at least 600 feet away.
There are also do's and don'ts when it comes to bringing your bike on the T. Here are all the MBTA's rules.If worst comes to worst and you get into a crash, this list from the bicycle advocacy organization MassBike lays out what you can do and factors to keep in mind.
15. The Elements…It's New England!
Greater Boston's weather is anything but predictable, and that poses challenges for bikers: You might depart for your destination under partly cloudy skies, only to deal with a downpour when it's time to head back. That creates problems from slick roads to reduced visibility to braking ability.In short, it's best to be prepared — and doing so doesn't require a bunch of fancy gear."Certainly you can use things a lot of times that you can just find in your home," Parad says. "You don't need special hats or special bike seat covers. You can use plastic bags to cover your seat."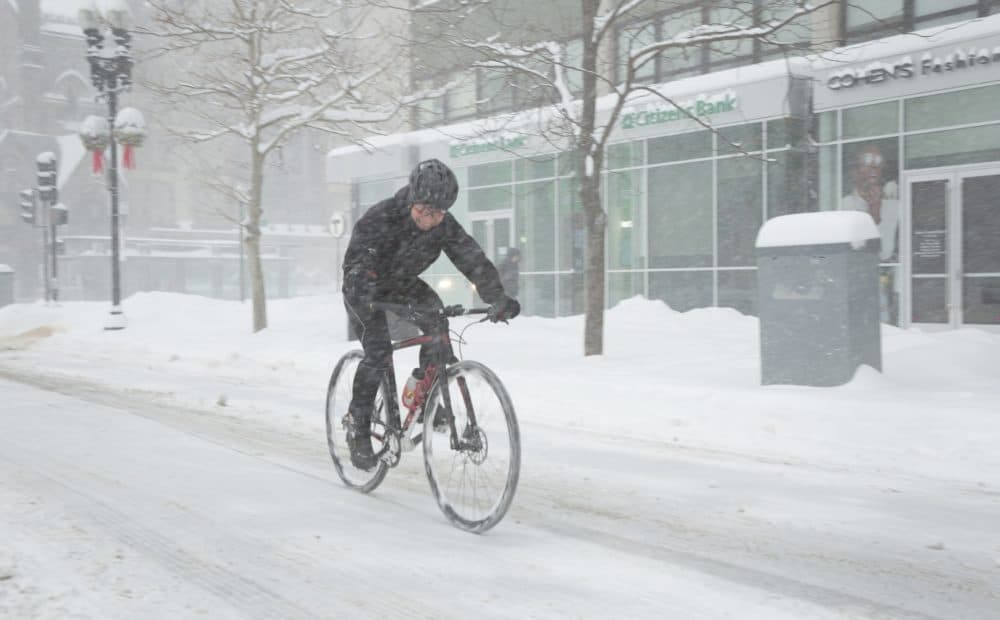 It's also a good idea to have layers at the ready."And bringing extra pairs of socks," Parad says. "So if you do get stuck in the rain … keeping your feet dry and bringing a change is a good tip."The sweat factor is another one worth keeping in mind, especially as we enter the sticky summer months. Vautour says one tip to avoid getting drenched is to pace yourself to and from your destination. You could also toss an extra shirt in your bag and/or plan to towel off upon arrival."When I ride my bike to get somewhere, I just go as leisurely [as possible] and I enjoy the city," Vautour says. And, don't forget to bring a bottle that's made for extreme temperatures.
Bonus: What's One Thing You Wish You Knew Before You Started Riding?
Mark Vautour, store manager for Landry's Bicycles:
Just how much fun it would be. I grew up in the suburbs. When I moved to the city, I started riding my bike to go places, and it's just plain fun.When we first opened the bike shop in Boston, I didn't know anything. Like I knew literally nothing … but we'd go on these great bike rides after work, we'd close up the shop and we'd go ride somewhere — whether it was to go get a burrito or ride to the top of the Arboretum at night and see the city. I wish I knew how many places you could see on a bike, and just the pure joy of riding a bike. I swear to God, it keeps you from growing up.